Fifteen years ago, I founded Inis Nua Theatre. Our mission was to produce contemporary, provocative plays from Ireland, England, Scotland and Wales. I knew starting a company was a risk. Would people relate to the stories, empathize with the characters and enjoy the innovative storytelling? The first show was called A Play on Two Chairs by Irish playwright Michael West and it was exactly that: two actors and two chairs. The budget was $1,200 raised by myself and the actors. Luckily, it was a hit and gave me the courage to mount a second show the following year
Fast-forward to today and the risk has paid off. Thanks to your support, Inis Nua Theatre has grown to producing full seasons. We've performed Off-Broadway, have been nominated and won Barrymore Awards and presented 21 American premieres. We've had nine playwrights travel to Philadelphia to see their work premiere and won the June and Steve Wolfson Award for an Evolving Theatre. Inis Nua has kept our ticket prices low, so that theatre is affordable.
What's the difference between A Play on Two Chairs and these past fourteen years? The difference has been YOU, the donors. Patrons and donors like you have allowed us to bring Dublin by Lamplight to the stage, both in Philadelphia and in New York. Contributions from people like you have allowed Inis Nua to share the great storytelling of Hooked, the tense worlds of Long Live the Little Knife and Leper + Chip, the intimate tales of Spine and Charolais and the sheer joy of Love, Lies and Taxidermy and The Monster in the Hall.
As we enter our 15th Season, I'm asking you to be a part of the celebration. Commemorate our fifteen years. Congratulate us on our past. Invigorate our future. And share in the jubilation of great stories told in an intimate setting sent from across the ocean.
In the next years of Inis Nua, you will see the company continue its great stories, but with greater production values. We'll bring you more American Premieres and be a pipeline for plays straight from the Edinburgh Fringe Festival to you. We're looking into presenting companies from Ireland and the UK and we are in talks to collaborate with companies from Ireland, England, Scotland and Wales to produce new, devised work right here in Philadelphia. It's exciting and we can't do it without your help.
In celebration of our 15th year we have received a pledge of $15,000 in matching gifts from generous Inis Nua supporters. Consider a donation to Inis Nua and set us on our way to $30,000! Celebrate with us and help us continue to Tell the Story.
Be well,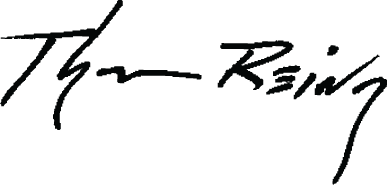 Tom Reing
Founder/Artistic Director